Take That's journey has been defined by constant evolution.
As one of the UK's most successful bands, with accolades aplenty (eight chart topping albums, eight BRIT Awards, and six Ivor Novellos to name a few) and consistently sold out live shows wherever they go, the band could be content with touring a back catalogue packed with decades worth of acclaimed hits around the world.
But Take That (Gary Barlow, Mark Owen and Howard Donald) aren't a band to rest on their laurels, and all signs point to the next stage of their evolution being their best yet.
Upcoming ninth album This Life is a vibrant body of work that sees them at their most confident musically. The recently announced 29-date UK and Ireland tour quickly snowballed into 41 dates due to overwhelming demand and includes six nights at The O2 Arena in London, where they already top the leaderboard for the highest number of gigs played by any artist.
"It's not only the audience we want to keep guessing, we want to keep things interesting for ourselves as well" says Gary Barlow.
In the '90s, Take That saw iconic, shapeshifting pop stars like Madonna and Prince as the pinnacle they wanted to reach, even when they were playing local clubs in Manchester. "We just always thought we could do it," explains Mark Owen, with the band always "going the extra mile," to make those stadium dreams a reality. By the time they split up in 1996, Take That were comfortably the biggest pop band in Britain.
With nothing to lose, they reunited in 2005 but the initial waves of nostalgia quickly transformed into excitement about the present. Over the next twelve years, the band released a string of chart-topping records (2006's Beautiful World, 2008's The Circus, 2010's Progress, 2014's III and 2017's Wonderland) as Robbie Williams temporarily re-joined the band and Jason Orange stepped away.
By the time Gary, Mark and Howard took a sold out stadium victory lap in 2019, celebrating their reimagined greatest hits collection 'Odyssey', Take That's position as music royalty was undeniable.
"It didn't feel like there was any pressure, it just felt like a celebration," says Barlow. Following the tour, each of them took time to explore projects outside of the band. They returned to the stage in 2023 to perform at the coronation of King Charles III, for a stunning one-off show at London's Hyde Park, and to celebrate 'Greatest Days', the big-screen adaptation of their record-breaking musical 'The Band', which was released to rave reviews.
That celebratory feeling continued and provides the backbone of Take That's bold new album This Life. Despite entering uncharted waters "it was never painful making this album," continues Barlow, with the band comfortable in their skin, their legacy and their vision for the future. "I hope it's just good times from here on out," he adds.
This Life marks the start of Take That's brave third chapter, as they strip away stadium spectacle and replace it with something more intimate but equally as ambitious. The trio began talking about returning to the studio two years ago, with lofty conversations about sound, style and intention, but it was the joyful lead single Windows that provided all the answers.
The band had just agreed to play Hyde Park and Mark was visiting Gary in London from his home in L.A. He had a vision of the band walking out onstage at sunset, singing something euphoric and warm, without the usual production tricks that have made Take That one of the most in-demand bands in the world. "Whichever shape the band has taken, it always sounds like Take That when we all sing on it. I wanted to lean into that," says Owen, comparing his vision to a "scruffy version of The Three Tenors".  Gary had been working on something that fit the vibe perfectly, and showed him the start of 'Windows'. They finished the track the same day.
"It was about that feeling of getting back together as a band, and heading back out into the world again," explains Barlow, with Howard Donald adding: "It has that feeling of spreading your wings, letting out the old and bringing in the new." It's the perfect introduction to a record that sees Take That evolve once more, without ever losing what makes them so special.
"It sounded beautiful, fresh and exciting. Similar to 'Patience', it just seemed like a great track to come back with," says Owen. "To have a song that can carry the weight of our history and feel like it deserves to be heard, that's very special," he continues. "Every conversation about the album became a lot easier after that."
Recording started in Nashville's Historic RCA Studios A with 9-time Grammy winner Dave Cobb (Lady Gaga, Barry Gibb, Brandi Carlisle) and ended in New York, via Savannah, Los Angeles, London and Barcelona with Jennifer Decilveo (Hozier, Miley Cyrus) also on production duties. "Making this record has been a delicate process," says Owen.
With nods to Hall & Oates, Supertramp, Wings, Elton John, The Eagles, Crosby, Stills and Nash, This Life sees Take That focus on vocals, with every member pushed to the forefront. "I know people call us a boyband or a manband but really, we're a vocal harmony group," says Barlow. During the initial run of Take That, he would be under pressure to write the songs but since they reunited, the other members have gotten involved. "This Life is a real celebration of the three of us," says Barlow, with each member bringing confident and considered ideas to the table.
"This Life is about the twists, the turns and the adventure of living," he continues, with the title track written after his son graduated university. "That's when it really hit us that he wasn't a kid any longer." Leaning into that, March Of The Hopeful is about ever-shifting relationships while One More Word was written with Donald imagining giving his daughter away on her wedding day.
"There's a sense of togetherness with this record, whether that's us coming back together as a band or people wanting connection in their own lives," says Owen. "After the past few years, where we've endured a pandemic and not been working on music together, it's asking how do we come together? How do we carry on, as a band and in general?"
"There's a real strength in numbers," adds Barlow. "A lot of this record is about being supported and feeling more confident in, amongst and around each other. Our audience is like that as well," he continues, with Take That fans regularly telling the band that their friendships with each other are as big a draw as the actual gigs. "There's a whole universe around us."
Days I Hate Myself is a love-letter to that long-standing relationship. "Sometimes you're not feeling great but you walk out onstage and this wonderful audience wraps their arms around you. They pick you up and I wanted a song that they knew was about them," says Barlow.
As jubilant as This Life is, it's also flecked with moments of loss. "The Champion is to do with ageing, things we've been through mentally and the various ups and downs that come with being a human being on this planet," says Owen.
They had discussions in the studio about taking out the lines about the titular Champion feeling "broken" despite the victories, but decided to keep them in. "We're not trying to fix everything," Owen continues. "Lyrically, it's a bit more worn since the last record. There's more dust and dirt to it. It's a record about challenges and overcoming them, rather than everything just being great. It asks questions, because we've realised we haven't got any answers."
"It's just the way life is," adds Donald. "As much as you want to try and keep an album super positive, you've got to have the balance between happiness, sadness and what real life is actually all about. You don't want people to listen to a Take That album and feel depressed though," he continues, with This Life's undeniable sense of warmth coming from the excitement the three friends felt being back in the studio together.
33 years after they first formed, it would be easy for Take That to tour the greatest hits every two years, but with bubbling ambition and a creative connection that is stronger than ever, now isn't the time to lean on the past. "We want to push forward," says Barlow. "We're still too ambitious to give into catalogue at this point."
Take That's popularity continues to grow as well, thanks in part to the global reach of social media and streaming. In 2024, the band are set to bring their euphoric, communal live show to new places for the first time. "Doors are opening for us and who knows where they're going to go," says Barlow, excited about this new chapter for Take That. "It feels like new things are on the horizon and hopefully this album will open even more doors for us.""There is a life in doing the same thing for a bit, but I want to be doing this when I'm 70," adds Owen. "If we were just repeating what we've done before, every year we'd just be a worse version of the band. This Life feels new. It's a brave record for us to make, but I don't think there's any other way if we want to carry on," he continues. "It just feels right," says Donald.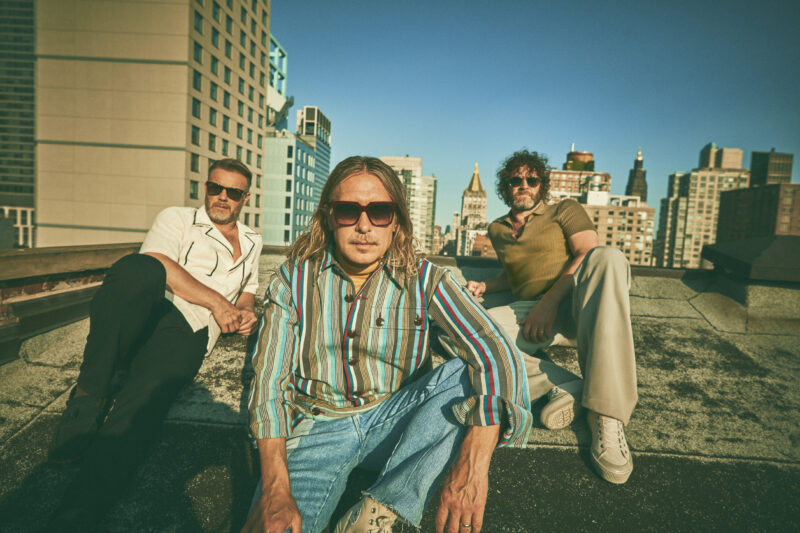 Source: United Talent Agency